I recently picked up a vintage Hudson Bay Blanket from a thrift shop.
It wasn't in good shape, lots of stains.
They can be dry cleaned, hand washed or machine washed on a gentle cycle,(with a detergent made for wool, like Woolite).
They should not be wrung out but should be laid flat to dry. If you're drying it outside, keep it out of the sun. If drying inside it should be spread out flat or draped over something to keep it flat.
I washed in my machine using cold water mixed with warm water. (My machine doesn't have a lukewarm setting)
It came out good, but still has some stains.
There are also some moth holes.
I haven't decided what I will do with my blanket, but I came across some beautiful things made with these colorful blankets.
This pillow made from the blanket can be found on Etsy,here.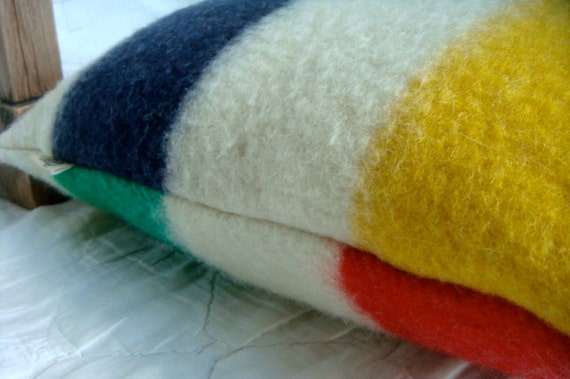 This beautiful hand bag can be found at Rebecca Ray Design,here.
This gorgeous jacket can be found here.
This hooded jacket can be found here.
And a third jacket with a more tailored look found here.
The shoes below were found on the same blog as the above jacket.
I love these reupholstered chairs using the blankets!
The original post was found here.
This reupholstered ottoman is adorable.
This was found on Pinterest.
And these stockings made out of the blankets, who wouldn't love one of these.
They are from Angus & Company.
This wing back chair covered in the Hudson Bay Blanket has a very classic look.
This simple bench seat is perked up with the colorful blanket. It was made by Hunter and Xylia and can be found here.